Painting Palette Knife Flowers!
Painting palette knife flowers is hands-down one of my favorite things to do! I could do a new version every single day! Seriously!  And it's fast! Want a quick win and a lot of fun? You need to try this!
* This post may contain affiliate links. If you purchase, I could make a small commission at no charge to you. Please read my Disclaimer and Privacy Policy HERE.
A lot of people are scared of palette knife painting because it's foreign and they haven't done it before. Once you try it out you are not going to be able to stop! And the best part? You can do it with any paint that you already have at home!


My preferred brand is Deco Art but you can use any craft paint or thicker acrylic paint. All you need to get started is a set of pallet knives or even a cheap plastic one from the store if you don't want to spend a lot. So many options!
The thing I love most about the palette knife, especially while painting flowers, is how freeing and relaxing it is!
There is literally no right or wrong! Each flower is unique and does not have to have a specific shape.The fun part comes when you layer in all the additional colors. Turn your type A side to OFF and let that little creative kid that you have buried deep inside come out! I promise, you will have so much fun!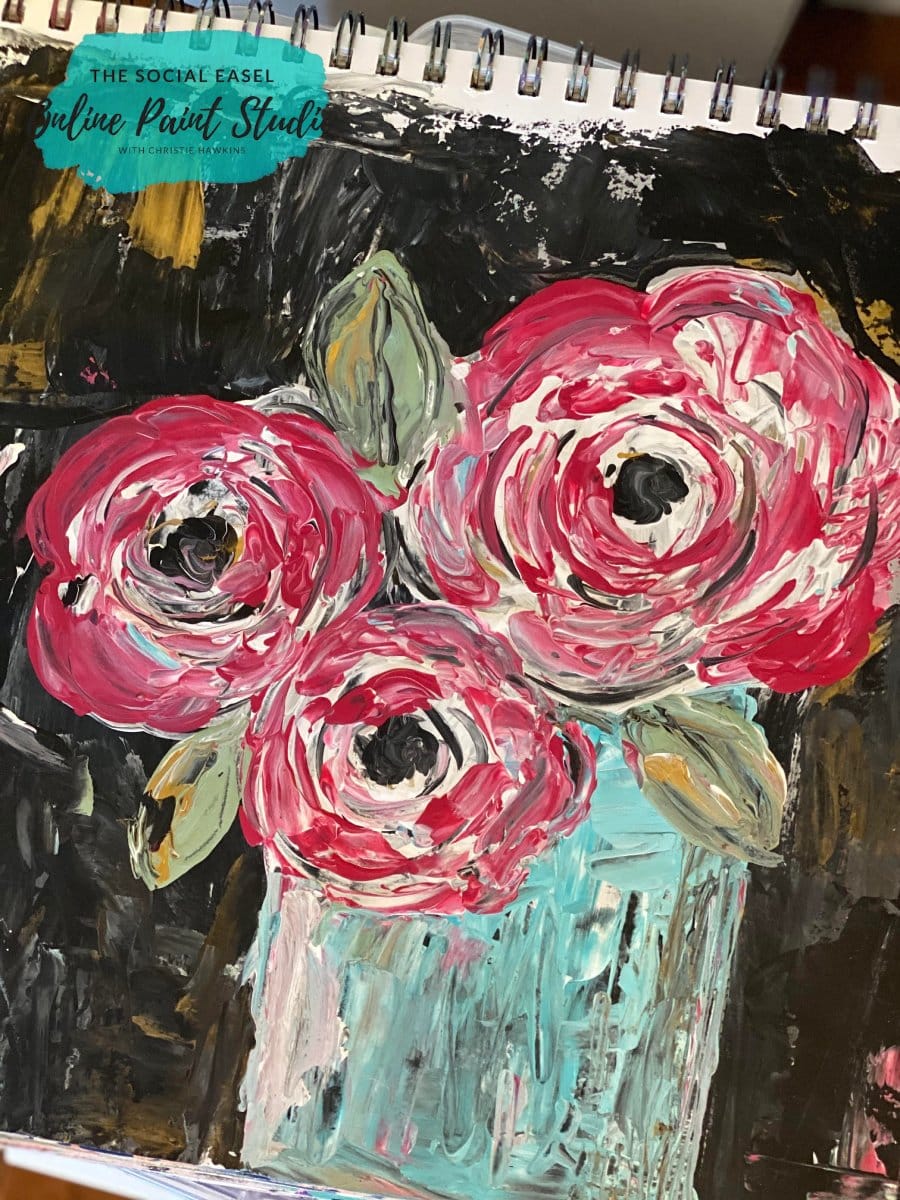 One of the most common questions I get asked is what color should I use? The answer is… Whatever color you want! Pick YOUR favorites!   
If you are making this to fit into a specific room in your house look around at some of the accent colors that you have in there and use that to design your painting!

I have done these in every color combination possible. Do something unexpected, different and exciting! Challenge yourself to get out of your comfort zone! Your brain and soul will thank you!
These flowers look beautiful added onto wood signs or even frames. Palette knife flowers can be painted on canvas, wood, mixed media pads… Any surface will work! You have no limits! What are you going to paint on?!
If you want the paint to be even thicker and have more texture you can add Gel Medium! 
This is a transparent medium that you add to your paint to thicken it up. It does not change the color at all and really fun to work with! It comes in different finishes so you can choose if you want matte, gloss, or satin.
Who is Pumped to try out Painting Palette Knife Flowers?
Watch my live video below where I show you step-by-step how to do this! This is a free tutorial for you to watch and learn from me! Don't miss out on another painting tutorial and subscribe to my YouTube channel HERE! 
After you watch the tutorial be sure to jump over to my Free Facebook Group where you can post your painting! I love how supportive this amazing group is ?and all the paintings!!
If you want to learn more about acrylic painting and get another free painting tutorial,  sign up for my Winter Chapel Tutorial HERE

Stay tuned to Facebook and my YouTube channel for new videos each week. 
Stay creative!