Wood Painting Projects!
Discover some of my favorite wood painting projects! You will also find some great DIY lessons to create your own adorable art on a palette board!
* This post may contain affiliate links. If you purchase, I could make a small commission at no charge to you. Please read my Disclaimer and Privacy Policy HERE.
---
When we think of sitting down to paint, we usually think about painting on a mixed media pad or a canvas. And I certainly create a lot of paintings both in my mixed media pad and on all sizes of canvases. But… those aren't the only surfaces I paint on. I LOVE painting on wood and particularly love using a wood pallet board for painting.
I haven't always painted on wood though.
A few years into teaching local art classes, I wanted to try something new. While I was in my studio looking for inspiration, I found a leftover pallet board my husband had made for a sign and decided to take my brush to it. I painted a pumpkin on it, treating it just like I do a canvas to see how it would look.
I loved it and was delighted to find out that I could use the same acrylic painting techniques as I do on canvas. The only thing I was unsure of was if my paint party students would love it as much as I did.
My first pallet board paint night sold out instantly! After having amazing feedback, I ended up doing two more paint nights for the same painting, and they sold out too! We were hooked.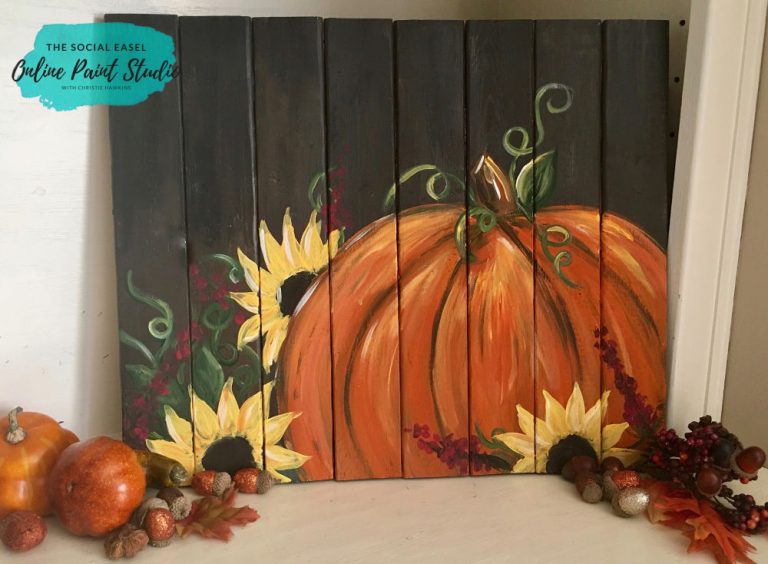 Everyone enjoyed the new surface. They loved the difference in the way the wood took the paint and how beautiful the final piece looked.
That was just the beginning of painting on wood for me. Since then, I have created a huge library of paintings on pallet boards and even wood scraps! Sometimes I think I might actually prefer painting on wood to canvas. I love the heavy solid look that it gives when it's hanging on the wall and all that organic texture it gives to the final piece.
I know you love them, too. So many of you ask for more paintings on wood pallets and a lot of my popular blog tutorials are those where we're painting on wood.
In today's post, I'm going to share some of my favorite wood painting projects and a lesson on how to build your own pallet board for painting!
This cute ol' rustic gnome painted on wood is one of my favorites to set by my mantel when all my Christmas decor comes down. So many holiday decorations can be used all winter. Especially gnomes! In this lesson, you will see just how simple he was to paint.
There's just something about a red vintage pickup truck! This painting features just such a truck hauling a snow-tipped Christmas tree painted on a pallet board. Painting this winter scene on a substantial wood pallet board would make it perfect for decorating a front porch all winter long.
One of our all-time fan favorite winter paintings is my Winter Chapel. I have painted it on so many different surfaces but especially love it on a tall wood pallet board.
You can learn how to paint the Winter Chapel in a lesson I recorded for my VIP painting membership! I am sharing this insider's look at how you would learn in Christie's Inner Tribe for FREE. Grab the lesson below.
This whimsical lovebird painting tutorial is such a fun one to do! I originally painted on wood pallets and customized them with names to give as gifts. This lesson is so simple it's great for beginners and kids.
The texture the wood brings to this mixed media flag, inspired me to create in a primitive Folk Art style, which I love. Wood holds up to all the layers of mixed media projects. You should give it a try!
My husband Corey has always built my pallet boards for me. Basically, I give him dimensions, and he makes it happen. So when all of you continued to ask me how they were made, I went to Corey and asked if he'd record a video with me to show you!
Of course, he agreed, and the tutorial is available now for only $6.99! This is a recording of a live video that includes step-by-step instructions and a full supply list so you can start making your own pallet boards for painting!
I can't wait for you to see how simple it is!
Have fun being creative and don't forget to share pics of your work!
If you would like to be notified before I go Live on Facebook with a fun art tutorial, text "Hey Friend" to 417-217-7044.
P.S. Check out some of my other paintings done on pallet boards that I thought inside Christie's Inner Tribe